The fantastic Cabinet of Obscurities
~ Closed for Winter~
Opening Sat 21 October
Visiting The Catlins?
Add The Lost Gypsy to your trip – A Fantastical Museum of Automata Art by Blair Somerville
The Lost Gypsy has three parts;
The Winding Thoughts Theatre (of sorts), the Bus, and the Coffee cart.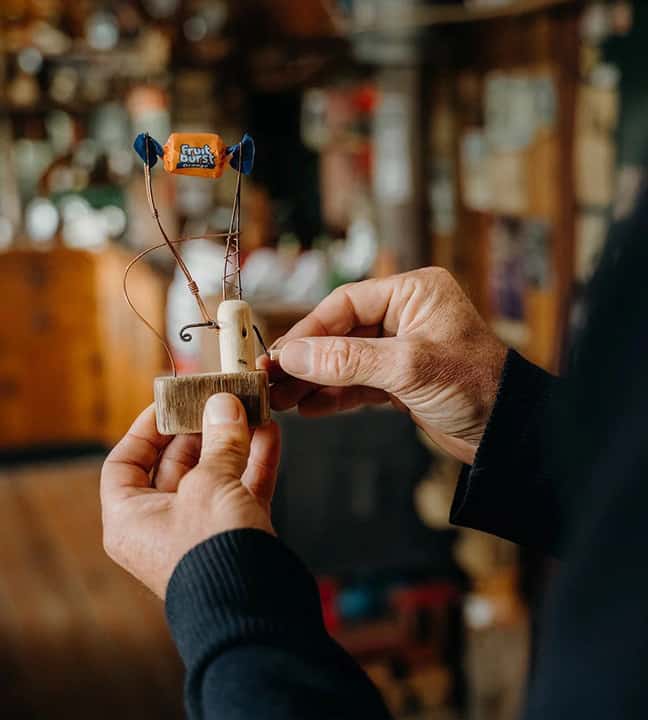 The Winding Thoughts Theatre of sorts
This is it. The Winding Thoughts Theatre (of Sorts). This temple of tinkering houses Blair's creations, together with automata art from around the globe. Walk through the gate, wander up the path and find a folly of fettling ready to be fiddled with. Wind handles, push buttons, and your curiosity will be rewarded.
To get a feel of the place start with The Bus (free admission). Have a play with the smaller automata there and browse the shop. Then, buy your tickets ($8) and venture up the path into the world of Blair's imagination.
~ Closed for Winter ~
Opening Sat 21 October

Summer
10:00 AM – 5:00 PM
Closed on
Wed
nesdays
Winter
CLOSED
Late April – late October
Where the tinkering began
In the beginning, there was … the bus. This 1951 Leyland house bus has undergone multiple transformations and at least 10 coats of paint since it was first parked up in 1999. Since then, Blair has obsessively filled the bus with his automata creations, donated curios and personal memorabilia. Winding handles and pushing buttons will bring them to life. Free admission.
If the bus tickles your brain, you'll have a hell-of-a-good-time in The Winding Thoughts Theatre (of Sorts). Buy your tickets in the bus.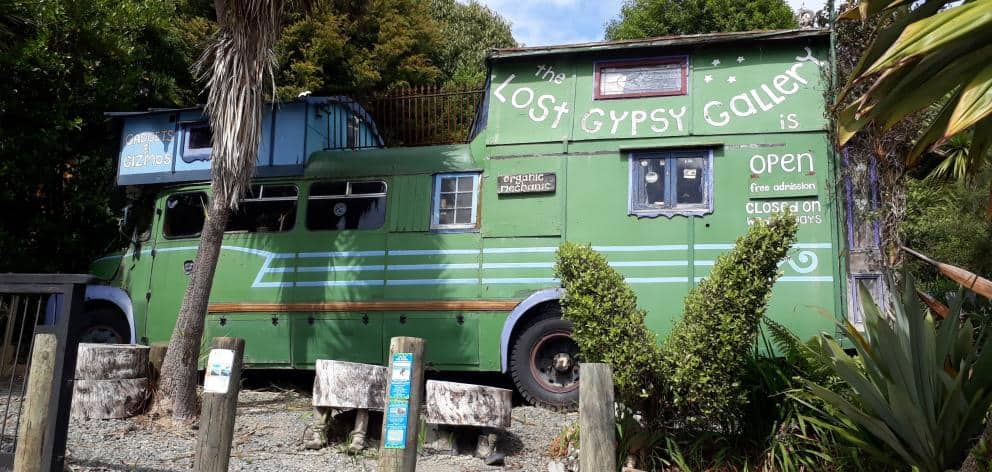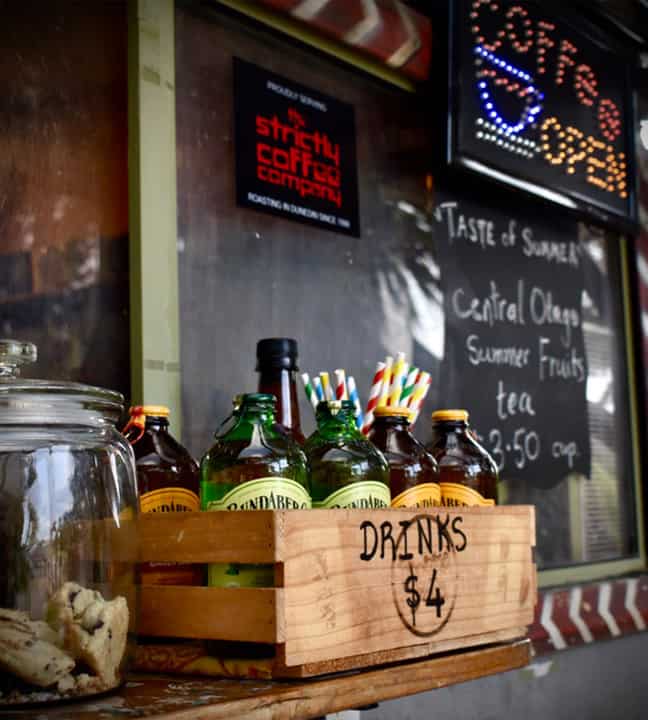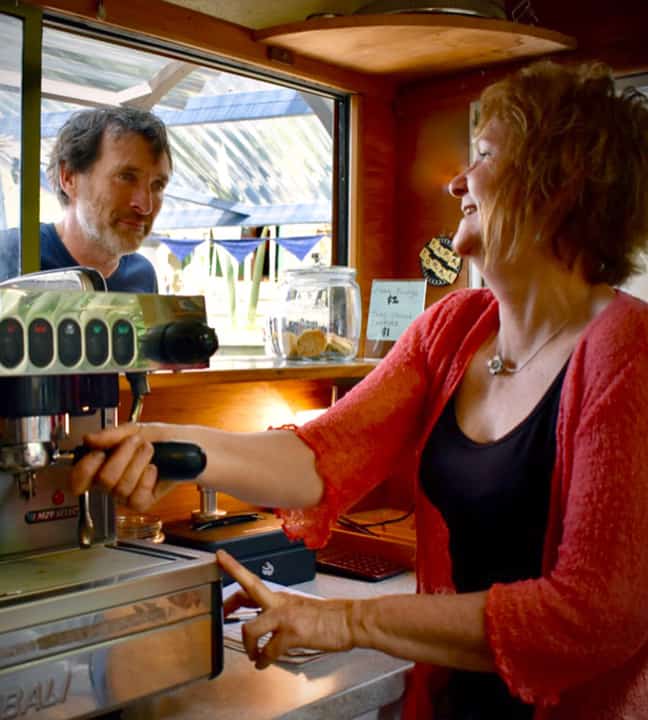 Grab a coffee at the Little Rocket
The must-have break on your road trip, here at the quirky coffee cart in The Catlins. Take a bite from Carol's homemade bakeries and spoil your eyes with Lost Gypsy treasures. Sipping from the best coffee in town, in a beautiful mosaic courtyard. Trust me, it can't get much more authentic than this.
Rewarding the curious since 1999
Hello! This is us, the artists behind The Lost Gypsy.
Blair Somerville came to Papatowai over two decades ago. He's the tinkerer, the fiddler, the maker of movement. The Lost Gypsy is his life project, and almost all that you see is by his hand.
His (now) fiancée, Sandra van der Sommen, came to meet Blair in 2018, and it was love at first sight. She draws and paints, and generally tries to raise the standard of the place.
If you want to know more about us & how the Lost Gypsy came about, check out the button below.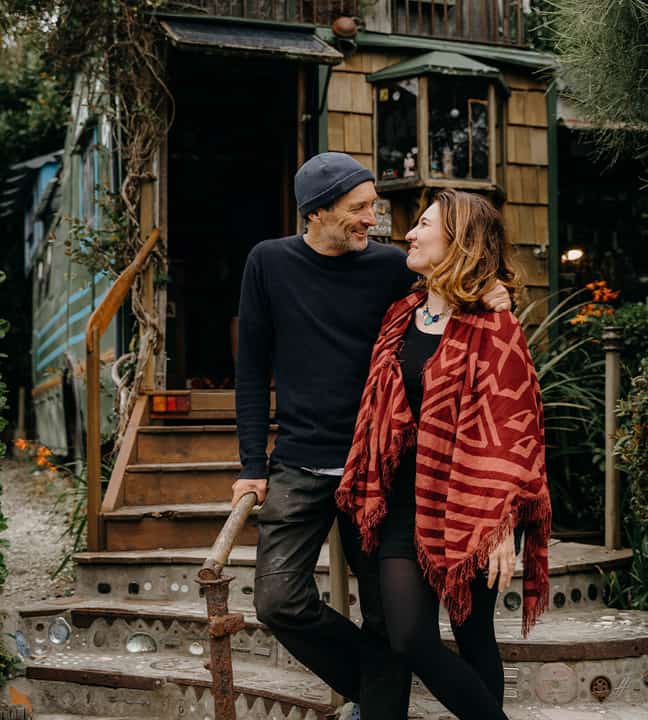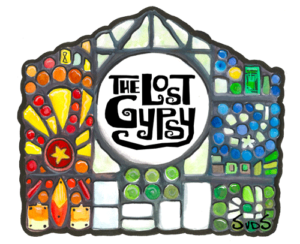 MagicRoundabout365
08/01/2022
Amazing…. Whether you're young or older, you will have fun at The Lost Gypsy Gallery - the fist entrance is free and you could spend a long time here - pay $8 per adult (adult only area) for further entertainment and interaction which was great fun - this place is easy to find but check when it's opening times are as we've been trying to go to this place for ages - the owners are wonderful and clever - inspiring imagination - there a small eating and coffee area but as we'd already eaten we missed out on sampling what they had on offer, maybe next time….. we would highly recommend The Lost Gypsy.
Lost Gypsy has been found 😉 Recommended by our host this was a great place to experience something different. So many cool inventions. Great break from nature, road trips and tramping.
Great for kids of all ages Had been recommended this by a friend and still didn't know what to expect. Amazing and wonderous for kids of all ages, and best of all is you can go in for a look in the bus for free and there's lots of things with so much thought in them. So worth a look (and a touch/push/play!).
A must see Such a cool little spot. So pleased we called in. It was hard to drag ourselves away. Great coffee too.
A hidden gem, must do From the curious to the frankly weird, these creations make one wonder at the creative thoughts behind them! Coffee from Carol's caravan is excellent along with her home baked treats. A must visit on any Catlins tour.
Allen McCormick
16/03/2021
Coffee Caravan I had two long blacks and two Belgium Biscuits. They were the best and as good as any I have had in my 50 years coffee and Belgium Biscuit career.
Inspiration456650
26/02/2021
A Must See We stopped here for a coffee and what wonderful unique place. Great coffee and very helpful owners and the caravan with all the wonderful gadgets is a must see.
Country gem Loved this place. Fabulous coffee and home made baking. Came every day we were in this area. Mentioned I was gluten free and the next day owner had baked delicious GF blueberry muffins. Setting great also.
A wee treasure I'd seen this place advertised and so thought I'd call in for a look and a coffee to go. I sat down, with my dog as he was allowed which for me was a huge plus. I assume the lady that served me was the owner and she was super friendly. What a great, quirky wee place...a wee treasure. Loved looking around and my dog enjoyed being able to be with me while I had my coffee
Pete and Trish Amos
06/02/2021
Great coffee and quirky gadgets Great coffee and sweet treats, just like Mum's home cooking. Fascinating collection of quirky gadgets, great for young and old. Great place to stop.